Today Modern is equipped to keep pace with contemporary global developments and market demands. we are engaged in providing a high quality range of Generator Rental Services pan India. In the years ahead, Modern venturing into newer horizons, modernized Fleet of equipment's, state of the depots with sound experience & unmatched marketing & engineering skills, envisions itself to be the leading player in Indian Power Rental Industry.
Genset - 380 KVA Specification
Make: Cummins India
264 KWE, Standby
Engine
ƒCummins QSL9 series, 6 cylinder, In-line 4 stroke, radiator cooled engine
Full Authority Electronic Engine
ƒƒWell designed air handling system with

Dry type, Replaceable paper element air cleaner with restriction indicator
Air to air aftercooling
Optimised turbocharger for increased altitude capabilities

Best in class fuel economy with

Bosch HPCR fuel system with A1 class electronic governing
Dual fuel filter system: Pre filter including water separator and Water In Fuel (WIF) sensor and main filter

Electrical lift pump for faster response
ƒƒStandard integral set-mounted radiator system, designed and tested for 50°C ambient temperature
ƒƒFull flow spin on lube oil filter
Plate type lube oil cooler
ƒƒFirst fill of lube oil and coolant
ƒƒElectrical starter motor with soft start engagement feature
ƒƒBattery charging alternator
ƒƒ2 X 12 V DC battery
Alternator
Stamford UC27 and HC4 alternator frames from Cummins Generator Technologies
ƒƒBrushless type, Screen protected, Revolving field, Self excited alternator conforming to IS/IEC 60034-1
ƒƒ3 Phase reconnectable winding with 12 terminals brought out for connection
ƒƒBetter motor starting capability
ƒƒBest in class efficiency
ƒƒCompact design with sealed bearings for longer life and lesser maintenance
ƒƒImpregnation on all wound components for better mechanical strength
Control Panel
Control panel is manufactured with 14/16 gauge CRCA sheet and is powder coated for weather-proof and long lasting finish.
The control panel consists of the following parts:
PowerCommand 1.2 Controller
ƒƒAluminum bus bars with suitable capacity with incoming/ outgoing terminals
ƒIndicating lamps for 'Load ON' and 'Set Running'
ƒƒInstrument fuses duly wired and ferruled
MCCB of suitable rating with overload and short circuit protections
PowerCommand 1.2 features
The PowerCommand® control system is a microprocessor based generator set monitoring, metering and control system with LCD display designed to meet the demands of today's engine driven generator sets
Intuitive operator interface which includes LED backlit LCD display with tactile feel soft-switches & generator set status LED lamps
Digital AVR for shunt or PMG excitation with torque matching.
Digital electronic governing with temperature compensation
and smart starting.
SAE J1939 interface to Full Authority Electronic (FAE) engines.
Remote start-stop
Engine metering: Oil pressure, Coolant temperature, Battery voltage, Engine speed
AC Alternator metering: L-L Voltage and L-N Voltage, Current (1 and 3 phase), Volt-Amperes (phase and total) and Frequency.
Engine protection: Low lube oil pressure, High/Low coolant temperature, Over speed, Battery Over/Under/Weak Volts, Fail to crank/start, Sensor failure.
AC Alternator protection: Over/Under voltage, Over/Under frequency, Over current, Short circuit and Loss of AC sensing.
Data logging: Engine hours, Control hours, Engine starts and upto 10 recent fault codes
Configurable glow plug control
Configurable cycle cranking
12 and 24 Volt DC operation
Sleep mode
Programmable I/Os (4 inputs and 2 outputs), expandable with AUX101/102 modules
Modbus interface (RS485 RTU)
InPower compatible (PC based service tool)
Certifications – meets the requirement of relevant UL, NFPA, ISO, IEC, Mil Std., CE and CSA standards
Silencer
Hospital grade silencer suitably optimized to meet stringent noise emission standards laid down by MoEF / CPCB
Mounting Arrangement
Engine and alternator are mounted on a common MS fabricated base frame with AVM pads.
Base frame with integral fuel tank is provided with drain plug, air vent, inlet and outlet connection, level indicator and provision for cleaning
Optional
Engine: Coolant heater, Oil drain pump, Heavy Duty air cleaner
Alternator: PMG
Control Panel: PC3.3, Microprocessor / Relay based AMF control panel
Others: Mobile sets with canopy
Technical data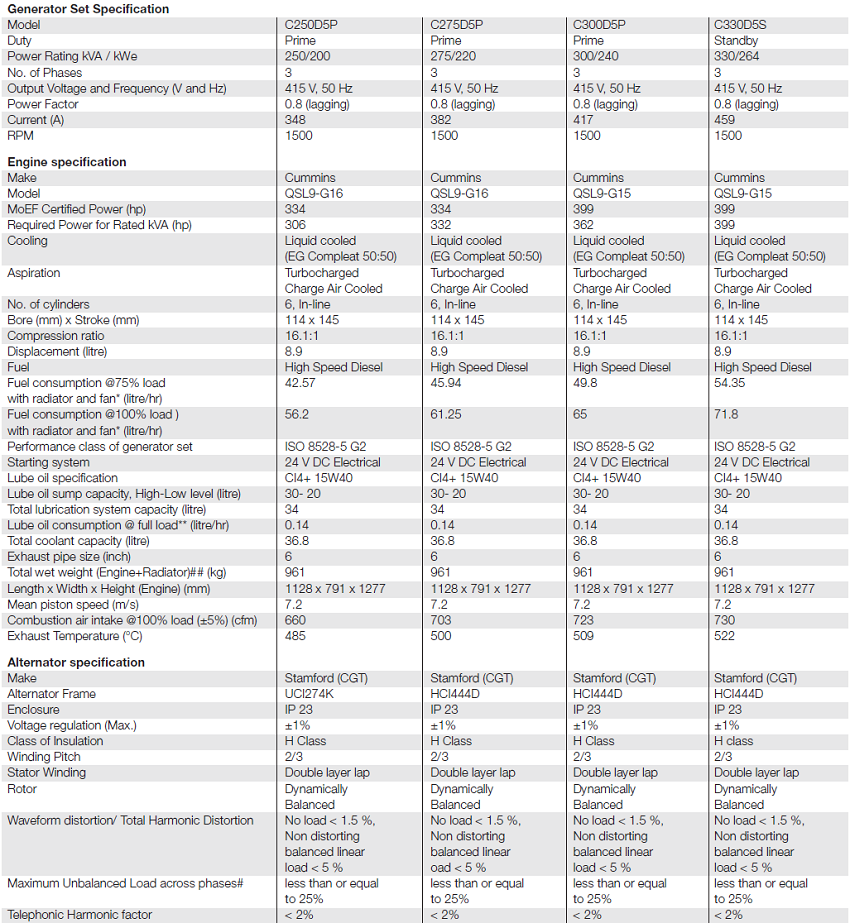 Typical Enclosed Genset Dimensions

---