We specialize in providing the generator on rent mumbai. These services are offered at reasonable rates and for different durations, short as well as long; as per the client's requirements. These generators are of established brands and provide very effective and quick temporary, emergency, and / or backup power supply. Salient features of our generators-on-rent are high quality, less fuel consumption, effective power supply, easy to transport, and high durability. In addition, we also provide the facility of generator's complete installation, at the location of client's choice.
Genset - 82.5 KVA to 125 KVA Specification
Make: Cummins India
80-100 KWE, 82.5-125 KVA Prime:
Standard scope
Engine:
Cummins ® 'B series' diesel generating sets, powered by Cummins® 'B series' engines, are rated at 1500 RPM and conform to ISO 8528 specifications. The engines are radiator cooled, four stroke and multi-cylinder, conforming to BS 5514 / ISO 3046.
The scope of supply includes:
Electrical starter motor 12V DC
Battery charging alternator
Bosch fuel system with mechanical governor, A1 Class
Spin-on lube oil filter
Spin-on dual fuel filter with water seperator
Turbocharger
Charge air cooler
Silencer (Hospital grade)
Dry type air cleaner
Shut-off coil
Flywheel and flywheel housing
First fill of lube oil and coolant
Safety for low lube oil pressure
Safety for high water temperature
Permissible overload of 10% for one hour in 12 hours of operation
Alternator
Stamford alternator from Cummins Generator
Technologies, suitable for operation at 1500 RPM, 415 Volts, 0.8 pf (lag) suitable for 50 Hz, 3 phase, 4 wire system, conforming to IS/IEC 60034-1. The Alternator is brushless type, screen protected, revolving field, self excited, self regulated through an AVR. The alternator has the following features:
± 1.0 % Voltage regulation (max) in static conditions
IP: 23 protection with insulation class H
Mounting arrangement
Engine and alternator are mounted on a common MS fabricated base frame with AVM pads.
Control panel
The control panel is manufactured with 14/16 gauge CRCA sheet and is powder coated for a weather-proof, long lasting finish.
The control panel consists of following parts:
PS0500 Controller
Aluminum bus bars with suitable capacity with in/outgoing terminals
Indicating lamps for 'Load On' and 'Set Running'
Instrument fuses duly wired and ferruled
MCCB of suitable rating with overload and short circuit protections
PS0500 Genset controller
Cummins PowerStart™ PS0500 control is a microprocessor based generator set monitoring and control system. The control provides a simple operator interface to the generator set, manual and remote start/ stop control, shutdown fault indication, and an LCD hour counter. The integration of all functions into a single control system provides enhanced reliability and performance compared to conventional generator set control systems. This control has been designed and tested to meet harsh environment in which gensets are typically applied.
Features, Functions, protections
16 character x 2 line alphanumeric LCD display with LED backlight
Operator interface Provide a record of most recent fault conditions.
Fault history stored in the control non volatile memory
Provide Alternator Data
Voltage ( 1 ph or 3 ph line to line and line to neutral voltage)
Current ( 1 ph or 3 ph)
kVA (3 ph and total)
Frequency
Provide Engine Data
Starting battery voltage
Engine running hours
Engine Temp.
Engine oil pressure
Control includes provision for Service adjustment and calibration of DG control functions
Voltage, frequency selection
Configurable input and output set up
Meter calibration.
Engine controls
PowerStart operates on 12 VDC batteries
Auto start mode accepts a ground signal from remote devices to automatically start the DG set. The remote start will also wake up the control system from sleep mode.
Engine Starting – The control system supports automatic engine starting, Primary and back up start disconnects are achieved by battery charging alternator feedback or main alternator output frequency.
Controller provide configurable time delay of 0-300 secs to start after remote start signal & time delay of 0-600 secs prior to shutdown after stop signal.
Sleep mode increase battery life. Configurable current settings from low to minimize current draw when genset is not working.
Engine Protective functions includes
Configurable alarm output
Emergency stop: Annunciated whenever an emergency stop signal is received by the control.
Low lube oil pressure warning and Shutdown
High engine water temp warning / Shutdown
Low coolant temp warning
Sensor failure indication
Low and high battery voltage warning
Weak battery warning
Fail to start shut down
Cracking lockout: Control will not allow the starter to engage or to crank the running engine.
Cyclic cranking: Configurable for the number of starting cycle (1 to 7) and duration of crank and rest periods.
Alternator Protective functions includes
High and Low AC voltage shut down
Under and Over frequency shutdown / warning
Loss of sensing voltage input shut down
Generator set specifications

Engine Specifications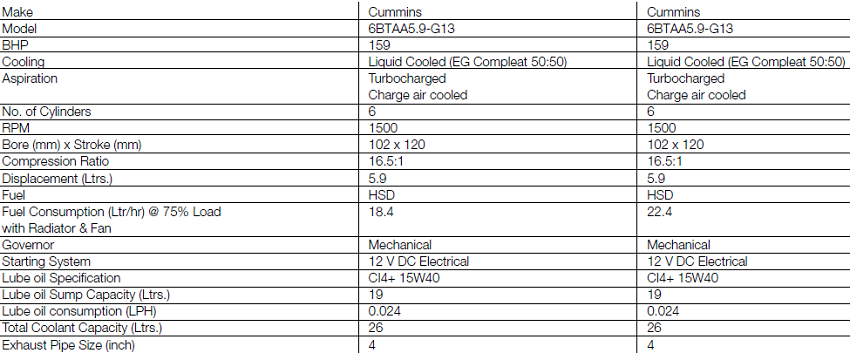 Alternator specifications
Typical enclosed genset dimensions

---